BDSM Self-Care Styles: Empower Your Wellness the Kinky Way | 6 Feb 2023
Feb 6 Written By Caress Fitch
 Decades of people watching in Kink Spaces has clued me to the fact that different personality types practice BDSM and self-care differently. Hey, I'm Caress Fitch, the Kinky Health Coach, and I help Kinksters reach their health and wellness goals so they can play hard and recover fast.
By the end of this article, you'll know what a BDSM self-care style is and how kink can empower wellness. And finally, how to determine your own self-care, BDSM style. Make sure you hang on to the end to find out how to get your guide to getting started with your self-care BDSM style. Now, before we get started, I'm gonna address what might be top of mind for some of you.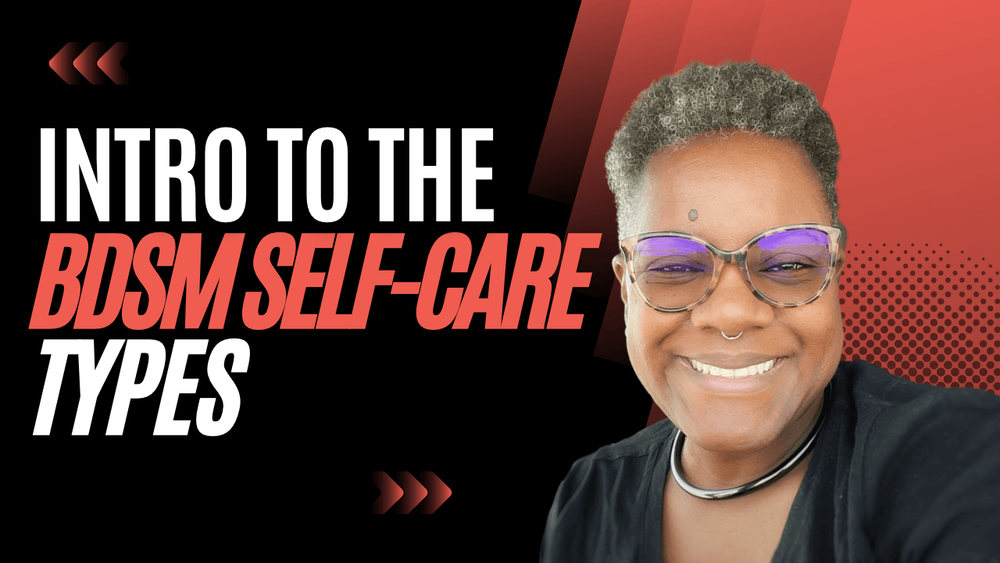 Isn't BDSM just violence and abuse?
BDSM is not violence or abuse. It's an interpersonal relationship based on trust, engagement, and communication between partners who are consenting adults. BDSM relationships involve activities where both parties agree to the terms and the conditions of the play, and they've set boundaries beforehand. In fact, many people in the BDSM community use their play to explore their boundaries and their desires in a safe, controlled environment.
There are strict safety protocols that are followed and respected at all times to make sure that everyone involved is having a safe and enjoyable experience. The practice of BDSM brings pleasure and intimacy to those who practice it responsibly and with respect for each other's boundaries. Now, that's all well and good, but why should we look to BDSM for better health and wellness?
Kink practices promote better health
Kinksters have significantly lower levels of psychological distress and are much less likely to experience anxiety and depression than similar non-kinky.  Kinksters also score higher on scales that measure self-esteem and social support, as well as just generally being more open and honest in their relationships, which can and does lead to better mental health.
Now, since kinksters exist in all walks of life, all income levels, and every single demographic, it seems that it's the practices of being kinky that are generating these benefits and not things that are unique to each individual. And for you, science-y types, I've linked some references below.
Please take a look if that's your thing. Now that we've bashed through the stigma and talked about some of the benefits associated with BDSM let's get into the main thing. So you're probably wondering. What is a self-care BDSM style? 
What is a Self-Care BDSM Style?
A self-care BDSM style is a way of communicating who we are when it comes to self-care.
It's a way of communicating and understanding our general approach to self-care and how we're wired or conditioned to respond in stressful situations. The styles are also tools for self-reflection and understanding our own needs when it comes to caring for our mental and physical health.
The four BDSM self-care styles correspond to the four major types of BDSM play.
Now, the styles are bondage and discipline. This is the "BD" of BDSM. Dominance and submission, which is the "DS" of BDSM. Then we add Caregiving and Receiving. Now, this is a more recently named style of kink that's not represented in the letters BDSM. And then, finally, we're going to wrap it up with Sadomasochism, which is the "SM" of BDSM.
Here are some quick things to note about each of our BDSM self-care styles. Now, before I get started, it's important to note that no one style is better or worse than any of the others, and you may be strong in more than one. 
Bondage and Discipline
Our first style, as I mentioned before, is Bondage and Discipline.  Some of the personality words that you might associate with the Bondage and Discipline style of self-care are decisive and self-confident, assertive, ambitious, and results-oriented. People with this type of self-care style tend to respond best to self-care activities that involve them taking some kind of action and being productive, like exercising or completing tasks. And folks with this type of self-care style have got the highest rates of prioritizing their self-care, with 83% of you making time for it in your lives.
Dominance and submission
Next up is the dominance and submission style, and some of the personality type keywords that you might associate with people with this self-care style are proactive, friendly, dynamic, talkative, enthusiastic, and outgoing. People with this type of self-care style are more likely to benefit from self-care activities than involve socializing and connecting with other people.
And this is a big deal because most of you also report that you're struggling to put your own needs first. When it comes time to take care of yourself, there's a greater tendency to be. 
Caregiving & Receiving
Some of the keyword word personality traits that you can use to help notice folks with this self-care style are stabilizing, patient, cooperative, nurturing, supportive, and diplomatic.  folks with this type of self-care style as their primary often find relief in relaxation type of activities like yoga and getting a massage, and this helps them to reduce trust levels and bring their emotions back into balance.
People with this style of self-care tend to be more introspective and thoughtful when it comes to their self-care practices. And over half of us report that we make an effort to find balance in our lives and avoid burnout. 
Sadomasochism
Some keywords that'll help you to recognize the sadomasochism self-care style is that these folks are meticulous. They're precise and organized. They're detail-oriented and systematic. They're cautious, and they're analytical. Folks with the sadomasochism self-care style tend to do really, really well when they focus on activities that stimulate their minds, like reading or learning new. The Sadomasochism style also puts a high value on taking time for yourself, but sometimes you need help sending those beyond rates. And more than half of you have shared that sometimes you don't feel comfortable saying no. When you're faced with a request from someone else, especially when it's someone else you care about.
Why does this matter?
Now, knowing your self-care BDSM Style can help you to understand why you think and act the way you do with regard to wellness; it's part of practicing self-care. This type of understanding can help you to identify your strengths and your weaknesses and adjust your lifestyle so that it better suits your needs.
Also, when you have a greater awareness of yourself, you can increase your self-compassion, which allows you to be more mindful of how you interact with yourself and with others, just as BDSM empowers your growth in your relationships and your intimate life. Your self-care BDSM style can empower your wellness journey.
Now viewing our self-care practices through the lens of BDSM encourages us to explore our physical and mental boundaries while deepening our own understanding of what it takes to help us each to feel safe and comfortable, and fulfilled using our self-care BDSM styles; we can take complete care of ourselves, including setting clear boundaries, communicating effectively with.
And learning to protect ourselves from potential risks. Applying your self-care BDSM style is an effective way to build resilience and find peace within yourself. So with all this talk about self-care and BDSM styles, you're probably wondering how to determine which one is yours. Not to worry, my friend, I've kept it super, super simple.
We've got a short quiz that you can access at go.mindfulpassions.co/quiz where you can determine your self-care BDSM Style and get a four-page guide to getting started with your Self-Care BDSM style. 
BDSM and Health Resources
Need help applying your Self-Care BDSM Style? Contact Caress today, and we'll create your customized action plan for applying your Kinky Self-Care Style.
#bdsm #selfcare #kinkyselfcare
Last Updated: 18 SEP 2023